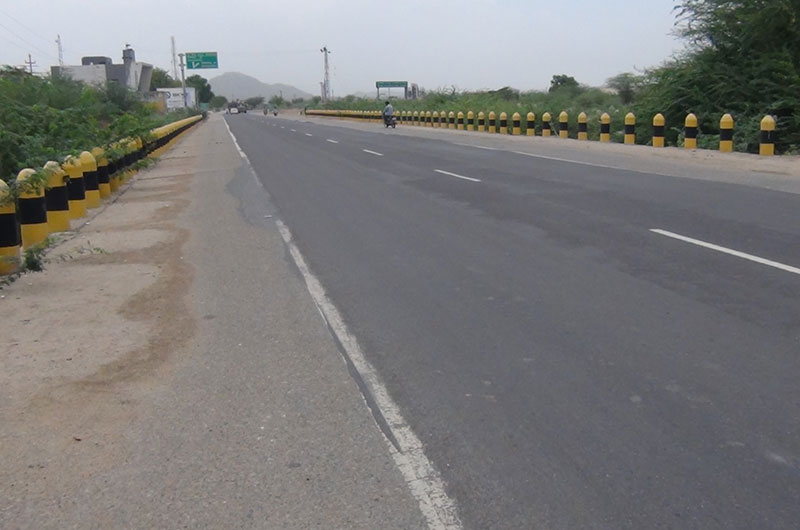 2-lane with Paved Shoulder of NH from Raisinghnagar - Pugal under Phase-I of Bharatmala Pariyojana (Package-2)
Development of the Project Highway shall include design and construction of the project highway. Two-Laning with paved shoulder shall include widening and strengthening of the Project Highway. Service roads at 9 chainages shall be constructed at a design length of 15.782 km on both sides.
Grade separated structures shall be provided at 9 design having a span arrangement of (1x12) & (20+30+20) respectively for each VUP structure. Ramps with 5.5 m carriageway and 6.5 m overall width on RE walls shall be provided on LHS and RHS after crossing the ROB to provide connection with existing Anupgarh-Vijaynagar Road with properly designed junctions.
Grade Separated Structures

VUP = 9

At-grade Major Intersections/Junctions = 8

Grade Separator = 6
At grade junction = 2

At-grade Minor Junctions at Bypass and Re-alignment Locations = 92
Drains in Builtup Area = 11
Drains along Service/slip road = 9
Reconstruction of Existing RCC Box Culverts = 137
Widening of Existing Culverts = 48
Construction of New Culverts = 12
Reconstruction of Major Bridge = 1 (3x22)
Reconstruction of Minor Bridge = 1 (1x12.5)
Additional New Bridges = 8

Culvert converted into bridge = 4
Re-alignment -2

Road Over Bridge = 1
RE Wall = 9

Total length = 7076 m